REMANUFACTURED HEADLAMPS
FOR AUTOMOTIVE OEM
Why offer remanufactured lighting assemblies as an OEM?
OPPORTUNITIES
Replacement lighting is a $5.87B industry
An untapped market – 11.7 million units replaced annually
Competes directly with aftermarket alternatives and pricing
SUSTAINABILITY
Reduces nearly 95% of waste per assembly
Continuously renewable
Extends green life of vehicle
On average, 80% less energy is used to produce a remanned part compared to a new one
BENEFITS
Program supports corporate ESG initiatives
Increases capacity and reduces supply chain issues for replacement parts
Keeps usable chips in-market, further reducing supply chain issues
Supported by the insurance industry
Want more info?
Send us a quick message and we'll answer any questions you have.
2.
Damaged Part Is Assessed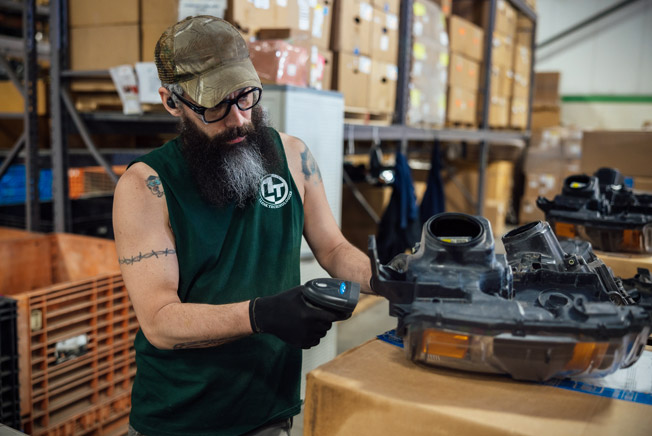 3.
Part Is Rebuilt To OEM Specs
4.
Part Is Tested & Shipped
Want to discuss how this process can work for you?
Great, let's talk!
Why use Llink for your headlamps
Llink Technologies is the first company worldwide to establish a patent-pending automotive lighting assembly remanufacturing program.
Our parts are engineered to fit right straight out of the box using brand new lenses and housings. They're then evaluated by 65+ electrical and mechanical tests to ensure they meet federal and OEM quality and durability standards.
Llink Technologies is currently working with a large global OEM, remanufacturing lighting assemblies for 16 vehicle models. The current program has the potential to bring more than 300,000 products back to market each year.
Ready to get started?
Send us a quick message and let's get going!
A BIT ABOUT LLINK TECHNOLOGIES
Llink Technologies is the first and only company to develop and implement a patent pending system for the remanufacturing automotive lighting. Established in 1995, Llink Technologies is an Engineering and Program Management driven company, certified to IATF 16949, ISO 14001, Q1, BIQS, and the recipients of numerous quality and delivery awards. We are committed, through the empowerment of our employees, to providing industry-leading quality, service, delivery, and innovation.
OTHER SERVICES
Llink Technologies is a prominent supplier of a variety of interior "Class A" products, including trim wrap, sun visors, consoles, cab lining, tonneau straps and seatbacks. These high-value, low-volume, and prototype products are made for the automotive and heavy truck industries.
INTERESTED IN WORKING FOR A HIGH-PRODUCTION COMPANY WITH A FAMILY-LIKE ENVIRONMENT?
Great, stop in to fill out an application or submit your resume online today!
Office
3953 Burns Line Rd., Brown City, MI 48416
Contact Us
Please reach out with any questions, comments, or to get started.